Auto Air Conditioning Repair in the El Paso Area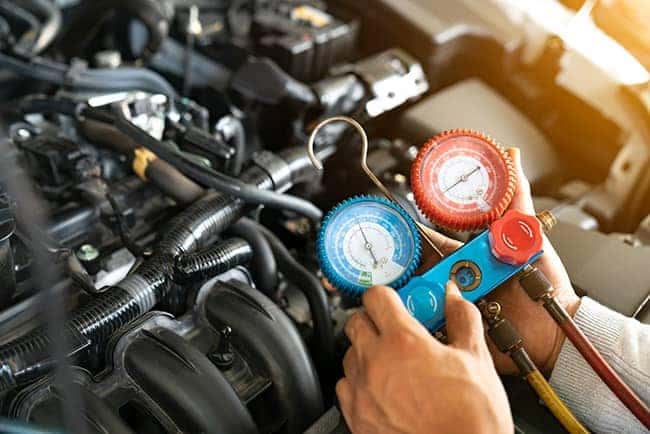 Vehicle air conditioner system problems can pop up out of nowhere. And with almost endless alternatives for vehicle air conditioning repair, finding the appropriate AC repair shop can be tough. If you wish not to overheat behind the wheel of your vehicle, we have you covered with some pointers, especially if you ever need to look for vehicle AC repair work.
---
Where's the Best Place to Go For AC Repair for your Car or Truck?
Like many car repairs, you basically have three options when it comes to fixing your vehicle's air conditioner system: Do-It-Yourself, an independent repair shop, or an auto dealership. Is one far better than the rest? Let's dig into each alternative and see.
---
Do-It-Yourself A/C Repair
DIY freon kits abound. Unfortunately, they just resolve one specific problem, however, and may miss bigger problems. Replacing leaked freon may give you momentary relief but subjects the atmosphere to unsafe chemicals when the system loses freon again. This option is the riskiest, as a lot of us aren't certified A/C repair technicians. You risk losing cash on an inadequate 'repair' and harming the atmosphere.
---
Independent Air Conditioning Service Shop
Independent service centers are a step-up from Do-It-Yourself, as they have the understanding and (likely) the tools needed for an effective vehicle A/C repair. While the professionals will certainly have a better possibility of efficiently detecting the problem with your automobile's A/C, they might not have all the specific devices required to effectively fix it. Independent service centers are created to service several brands of vehicles, not necessarily your car specifically.
---
Air Conditioning Repair at a Dealer
Your local dealership is truly your best option when repairing anything on your automobile, which includes having your car A\C repaired. The dealer service technicians have been specifically trained on your automobile and have access to any kind of specialized equipment and manufacturer replacement parts that may be necessary to successfully repair your car's air conditioning issue.
---
All 3 choices have their merits when it comes to fixing your car's cooling, however here at Shamaley Ford, we have the right tools to properly diagnose your problem and repair it appropriately.
---
What's the Price of an A/C Analysis?
The very first component of fixing your vehicle's A/C is recognizing what's broken. This means more than discovering that the car or truck's A/C unit does not blow cold any longer. The price of an air conditioning analysis can differ greatly depending upon just how extensive the diagnostic examination is. Some shops like the automobile parts store or independent repair shops may just have the ability to check for freon leaks, while we have the specific devices necessary to appropriately repair your vehicle's A/C issue. We understand that one size doesn't fit all, and we will customize the A/C diagnostics examination for your specific demands. Make sure to call us for an individualized quote on your car.
---
What Causes Auto Air Conditioner Systems to Quit Working?
Eventually your automobile's AC system stopped working as a result of a leakage or a component failure, it should rarely need a 'recharge'. A/C systems are cooled by freon, a chemical that can be hazardous to the environment. So, while you may be most worried about your loss of cold air, a damaged car air conditioning system might be harmful to the atmosphere and should be checked immediately.